LIVE: https://www.youtube.com/watch?v=ZAuAjtYtUHU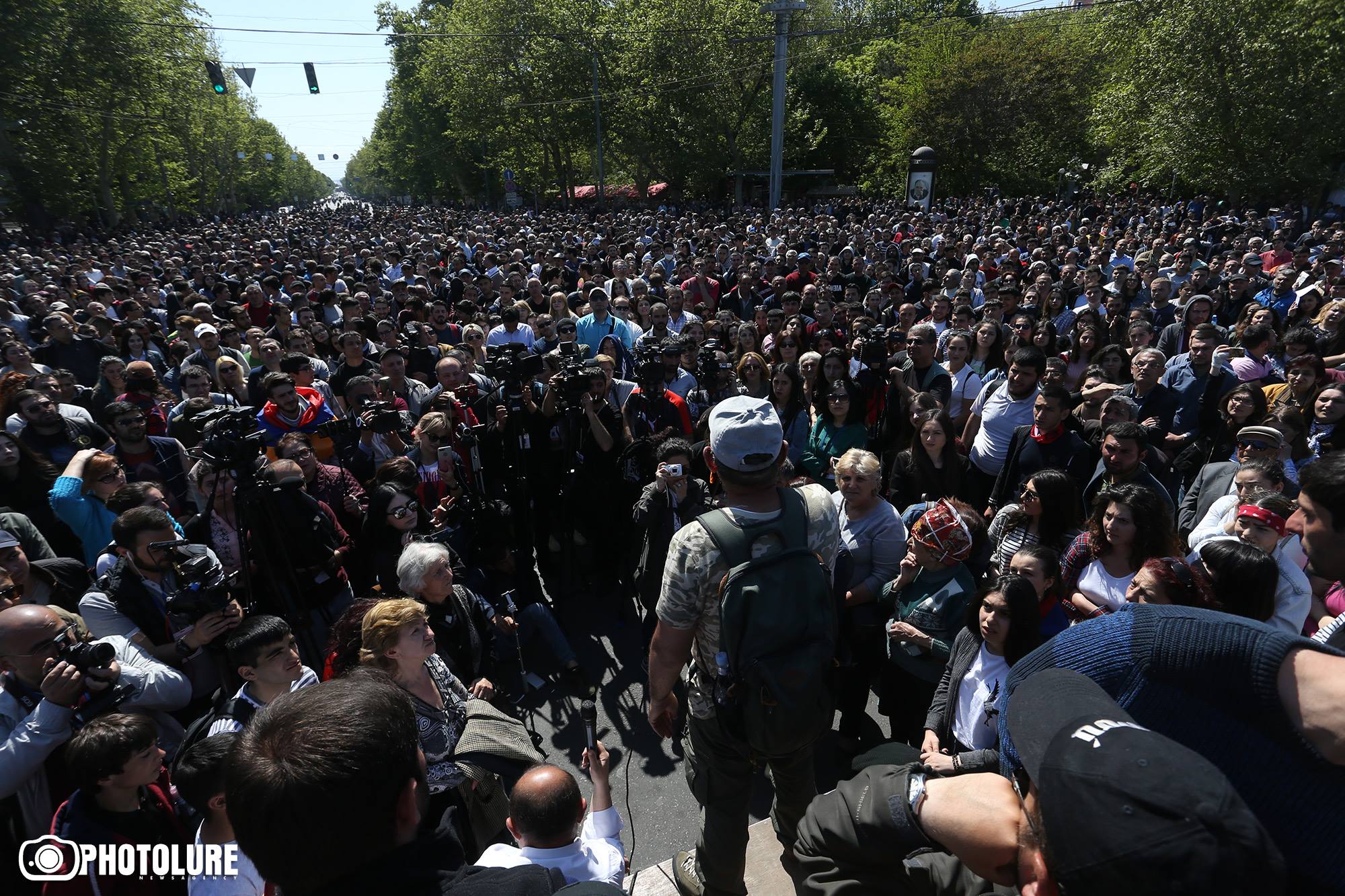 A l'appel de plusieurs groupes d'opposition, des manifestations se poursuivent à Erevan contre la nomination de Serge Sarkissian qui doit accéder le 17 avril au poste de Premier ministre.
Le mouvement a été initié par les partenaires du "Contrat civil" de Nikol Pachinian au sein de l'alliance "Yelk" représentée au Parlement, les jeunes militants du mouvement "Kayl erek: merjil Serjil" et le "Front pour l'Etat arménien".
Armenia: Protesters rally against ex-president's power grab
DW Deutsche Welle 16/04
Opposition leaders have threatened to prevent a two-term president from becoming Armenia's premier under a new system. But police have warned protesters against taking further action, saying there could be consequences. Armenian police on Monday clashed with protesters rallying in the capital Yerevan to stop a political transition largely seen as a power grab by former President Serzh Sargsyan.
Earlier this year, Sargsyan ended his second and final term. However, parliament is set to approve him as prime minister on Tuesday as the former Soviet nation shifts to a new parliamentary system of government. Protesters have accused the former president of designing the transition to continue his hold on power but with a new job description. Thousands of people blocked traffic in the capital, chanting slogans such as "Armenia without Serzh" and "Serzh is a liar."
"Our goal right now is to prevent Serzh Sargsyan from becoming the country's leader for a third time without violence and the use of force," said Nikol Pashinian, an opposition leader who led protesters in Yerevan. But police warned protesters against violating public order, saying there would be consequences. "Such actions can lead to crimes against the citizens' life, health and property," police said in a statement. Police established barricades to prevent protesters from reaching the parliamentary building
'A familiar tactic'
Sargsyan rose to power in 2008, when he won the presidential election, an event that triggered mass protests and deadly clashes. Since then, he has managed to balance his pro-Kremlin policy with closer EU ties. Analysts have described his transition to the prime minister's office as a move practiced often in former Soviet countries. "Obviously, this is a mechanism that allows Armenia's current ruling elite to stay in charge.
It's a familiar tactic in the post-Soviet space, where leaders endlessly tinker with their constitutions to perpetuate their power," said Thomas de Waal, a senior fellow at Carnegie Europe think tank. "Vladimir Putin made a similar gambit when his second term ended in 2008, even though in the Russian case there was no new division of powers."
During Putin's time as prime minister, Russian law was changed to allow a former president to return to the post after a hiatus.
The ruling Republican Party and pro-government Dashnaktsutyun Party formally nominated Sargsyan on Monday for the premiership. Parliament will put his nomination to a vote on Tuesday.